Susan McMillian and I were tempted to act as barkers for our iSummit 2014 session. Two vivacious animated personalities such as ours, we were committed to having fun even if we only had one particpant. As it turned out, we had about seven participants who ventured into the unknown for an hour of "Odyssey City Comes Alive with Technology". While the title gives a nod to Odyssey Atlanta, the non-profit organization for whom Susan and I have worked the last eight or nine years, it probably didn't convey what was in store for all of us – presenters and particpants. Using George Ella Lyons' poem "Where I'm From" and student-writings as models, our participants performed a close read of the text and fully engaged in the process of writing their own poems, emulating Lyons' style. Hopefully, in addition to leaving with the wonderful poems they created, they also left with some constructive and concrete ideas on how to use technology (in this case Keynote and Garage Band for iPad) to support literacy across the curriculum and community-building in the classroom.
Susan and I invited our participants to post their poems here, and I have also included the link for the conference evaluation form below. Let's hope they post them here, and that you enjoy sharing them as much as we did.
https://docs.google.com/forms/d/1LRbwsF598i8iTiNa7ZtGHf-UnZ_Lcmy4B19fD1IWEdI/viewform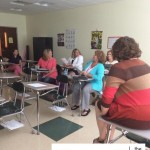 Photo from our iSummit 2014 session.